Wood Stove Pipes Shopping Guide – Wood Stoves Pipes Reviews
Wood stove pipes are necessary for installations of wood burning stoves which use a chimney or a vent. These wood stoves pipes is what carries by products of combustion into the chimney or vent. These should be very heavy gauge wood stove pipes for maximum protection of your wall and ceiling.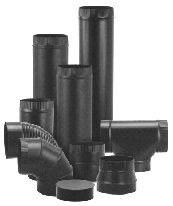 Wood Stove Pipes Installation Warnings
Before you try to install your own wood stoves pipes you should know that doing this incorrectly can make your fireplaces unsafe and can decrease your air quality. With that said, adhere to these warnings before trying to do your own wood stove pipes installations.
You should never mix the gauges of wood stoves pipes products. Wood stove pipes are normally between 22-28 with 22 being the heaviest and 28 being the lightest gauge of wood stove pipes. Always buy all the same wood stoves pipes from the same brand. Normally, your connections won't meet up and connect properly for different brands and can cause your stoves to become unsafe. If you need to increase or decrease the size of your wood stoves pipes, always use a pipe reducer or increaser – don't try to do this job any other way. Always use screws to finalize the connection of your wood stove pipes. Your wood stove pipes might fit snugly together, but the only way to ensure a very tight and secure connection is to finalize with 3 screws into your wood stove pipes.