Vent Free Stoves Shopping Guide – Vent Free Stove Reviews
Vent free stoves are ventless stoves that are great at saving space in your homes and heating it as well. Before you invest in one of these vent free stove models you should always check you local building codes because they aren't legal everywhere.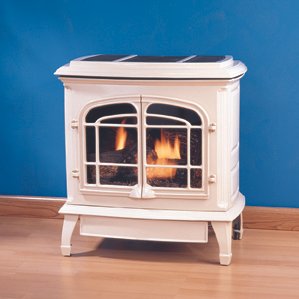 One of the best parts about these vent free stoves is the flexibility they give you when it comes to installation. Because they don't require a chimney, or any vent at all they can virtually be installed anywhere in your home. Also if you're looking for efficiency, vent free stove models are the most efficient and best at heating. Vented models of fireplaces lose a lot of heat to their vents that these vent free stoves don't.
Most Popular Vent Free Stoves
Ventless gas stoves are some of the most popular vent free stoves. These are very effective heaters, and a very inexpensive way of heating your home. The only thing you have to worry about with these gas vent free stoves is your air quality inside your home. Always make sure that your ventless gas stoves model has been properly inspected, and it might also be wise to spend a couple extra bucks on one of these to ensure a more high quality product.
Cast iron vent free stoves are some of the best selling stoves on the market today. These models combine the elegant look and durability of cast iron fireplaces with the heating capabilities and efficiency of ventless technology making them some of the most popular vent free stoves.