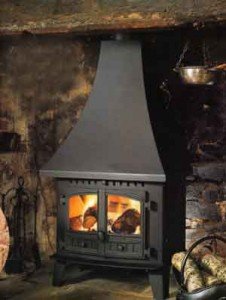 Gas stoves are low maintenance options for those who do not want the hassle of building a fire every time they want to heat their home or room. Gas stoves have a quick and easy on / easy off feature, which makes them really popular among families with young children. For more information about gas stoves please refer to that section of the website.
Wood burning stoves are more traditional styles of stove products. Some people like the process of building fires, as well as the smell and sound. For more information about wood burning stoves, please refer to that particular section of the website.
Pellet stoves are a great alternative to heating smaller rooms and more localized heating. Because you don't always want the whole house to get hot, these pellet stoves can be very helpful in heating certain rooms that stay colder like lower or shady areas of homes. For more information about pellet stoves, please see that section of the website.
Oil burning stoves are stove products that use oil as their fuel source. Many of the older oil burning stoves are considered antique wood stoves and are worth a lot of money because they are considered rare collectors items. Today oil burning stoves have made a comeback and usually resemble the older models. For more information about this kind of stove please refer to the oil burning stove section of the site.
Just like fireplaces, there are direct vent gas stoves, b vent stoves and ventless gas stoves which refers to the way they vent (or don't vent) your stoves.