Penninsula Fireplaces Shopping Guide – Penninsula Fireplace Information
Penninsula fireplaces are a favorite among homeowners because of their elegance and unique design. A penninsula fireplace is a 3 sided fireplace with the back or side of the fireplace built into a wall with two of the sides being longer than the third side in these penninsula fireplaces.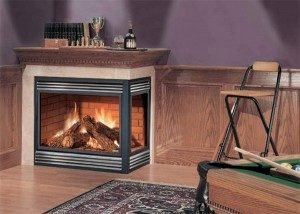 Penninsula fireplaces are also see thru fireplaces that are great to look at. These types of fireplaces are a hit at parties and social gatherings, and are a great conversation starter.
The biggest advantage to these fireplaces is the view you get. Penninsula fireplaces have at least two viewing sides, and often times three viewing sides to see and watch the beautiful fire. This is useful because it allows you and your guests to see the fire from more places in your home, not just when you are directly in front of it.
Penninsula Fireplaces Review
Best Penninsula Fireplace Deals
The BGD40N1 penninsula fireplace model by Napoleon fireplaces is a great luxury model top of the line fireplace at pretty good price. For around $1,800 you can purchase these direct vent natural gas penninsula fireplaces, and make anybody who enters your home jealous of your beautiful penninsula fireplace.
This model features up to 30,000 BTU of pure heat, millivolt system so you can use during power outages without electricity, flame adjustment for maximum comfortability and energy efficiency, heat resistant glass, safe guard automatic gas shut off for safety and many other standard features come with these penninsula fireplaces.