Osburn Stoves Shopping Guide – Osburn Stove Reviews
Osburn Stoves are a subsidiary company of SBI who are the stove manufacturers of Osburn stove products. The company is owned and operated by a Canadian family who's mission is to offer the world the most environmentally sound heating solutions for sustainable living.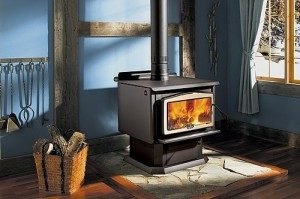 Osburn Stoves was founded by Bob Mills and three other partners in Victoria, British Columbia, in 1979. In response to the energy crisis, Osburn stoves saw the need for a more sustainable way of heating.
In 1988, Osburn Stoves became the first wood burning stove manufacturers to make gas stoves as well. The new product was the first in a new line of gas stoves and fireplace inserts, including the Victorian Series, which just as stylish as Osburn Stoves wood burning stove fireplaces with very large viewing areas which is something that most stoves don't offer.
Osburn Stoves Product Line
Osburn stove products feature a huge line of many different stoves, fireplaces and inserts which are all very energy efficient while maintaining their effectiveness for heating a large home. Osburn stoves most popular models are their wood burning stove models which most are EPA wood stoves that qualify for the tax write off because they are very energy efficient and cleaner burning than most other models. Here at Fireplaces and Wood Stoves NOW we really like this line of wood burning stoves because of their efficiency, heat output and stylish designs. If you are looking for wood burning stove, we highly recommend Osburn stoves.
Osburn stoves has one pellet stove model called the Hybrid-45MF. This is one of the better designs when it comes to pellet stoves, with it's distinct large viewing area that gives you a nice view of the fire from anywhere in the room. If you are looking for pellet stoves, this is a great one but other stove manufacturers have a larger selection when it comes to pellet stoves and pellet inserts than Osburn stoves.