Majestic Fireplaces Shopping Guide – Majestic Fireplace Reviews
Majestic Fireplaces are a brand of the Monessen Fireplaces company. These Majestic Fireplaces give many choices for home heating and some of the easiest to install fireplaces that you can find, and many of these Majestic Fireplace models don't require a chimney meaning no big home renovations for your house.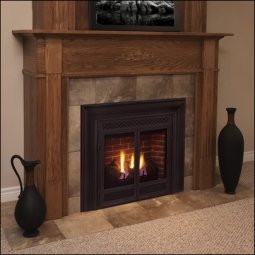 Majestic Fireplaces Gas Stoves
Majestic Fireplaces has a line of gas stoves that offer very high performance in heating your home. These gas stoves give enough power to be the primary heating device in your home, so unless you have a huge house this just might be all you need when it comes to heating. Majestic Fireplaces stoves offer numerous convenience features, and a more modern contemporary stove look, with an extra large view of the fire so anybody in your house can see the beauty of your stove no matter where in the house they are. They feature the innovative Insta-Flame Radiant Ceramic Burner, which provides the a flame that's so realistic it's hard to tell the difference between these gas stoves and traditional wood burning fireplaces.
Majestic Fireplaces Inserts
If you are looking to update an old and outdated already existing fireplace that just wastes money in your home, Majestic fireplaces inserts are a good option to check out. These fireplaces inserts are very easy to operate gas fireplaces inserts with instant on / instant off thermostat control and a blower which comes standard into every Majestic fireplaces insert to quickly move warm air into your rooms. These gas fireplaces inserts feature very real looking flames, so the traditionalists can still appreciate these products from Majestic Fireplaces.