Cleaning Your Furnace Vents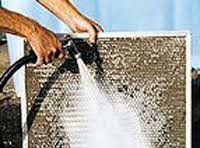 When you turn on your wood furnace and you notice dust shooting up in the air then this is a very apparent clue that your furnace vents need furnace cleaning. If you don't immediately do something about this, you and your family might inhale this dirt which can lead to respiratory problems. To avoid this from happening, you should take a preemptive measure like cleaning your furnace vents as often as possible.
It is easy to clean your vents and this does not require any technical know-how to do so. When you look at your furnace, you can easily spot the vent cover which hides the actual vent from the outside environment. The vent cover protects the furnace vent from exposure to outside impurities however it is still inevitable to prevent 100% of the dirt from going into the vent furnace. Since most dirt particles are microscopic, they can still pass through the vent cover no matter how tight it is.
To clean the furnace vent, remove the cover slowly. You can already see from the vent cover if the furnace vents are contaminated with dirt. The cover itself will already contain dust, dirt, molds and grime. Using clean running water, you can wash the vent cover. Use non-toxic liquid soap to clean the cover as needed.
Once the vent is opened, clean it by wiping it with damp cloth. It might be difficult to drive running water to it so what you can do is manually remove the dirt. Damp cloth is required so that the impurities will not simply fly into the air. Continue cleaning until you have covered all parts of the home furnace vent. Let it dry and close it again with the vent furnace cover.
Last updated on April 30, 2019 7:38 am