Efficient Furnace – Choosing the Ideal Furnace Design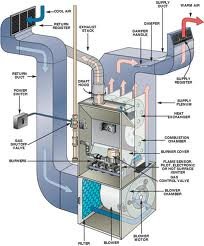 It has been observed that there is an increasing amount of money that people spend in merely heating their homes. Some households even spend thousands of dollars just to get their heat furnace up and running. To be able to cut down these expenditures, choosing an ideal furnace design that leans towards efficient heating is a must. In addition to that, proper maintenance and tune up of your home furnace prior to use can significantly reduce the cost of its operation.
The right design furnace is the one that allows the owner to use 100% of the heat produced by this device. Furnace designs that utilize a chimney apparently waste a portion of the heat produced by expelling smoke out of the home. However, furnaces like a wood furnace cannot work properly without a chimney. The house will be completely filled with smoke if it was not allowed to escape outdoors. Thus, this shows that the wood furnace design is a little inefficient.
If there is a way to filter smoke or isolate the heat that comes along with it, the wood design furnace might have gone differently. If there is such a technology that enables people to do so then the wood furnace is probability the best choice when it comes to furnaces. This type of furnaces uses cheap fuel which is renewable if obtained properly – which is wood. However, due to its furnace design, the heat is not used 100% by the home.
In this case, the next best thing is the electric furnace. Aside from being compact, this furnace does not produce smoke. Therefore, all the heat is used to warm the interior of the home. with this furnace design, you can be able to reduce your cost in keeping and using a furnace at home.
Last updated on September 30, 2016 6:17 am