Free Standing Fireplaces Shopping Guide – Free Standing Fireplace Information
Here at Fireplaces and Wood Stoves NOW, we know that there are all kind of options when it comes to buying fireplaces that you sometimes don't even know where to begin. We told you about zero clearance fireplaces and penninsula fireplaces along with many others so far, but do you know about the free standing fireplaces? Free standing fireplaces are getting increasingly popular for a bunch of reasons. Most of the time, a free standing fireplace is simply a stove. In this section of Fireplaces and Wood Stoves NOW, we're going to give you information regarding these free standing fireplaces.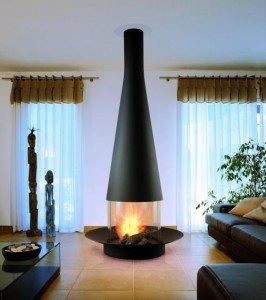 What Are The Benefits & Disadvantages Of Free Standing Fireplaces?
The biggest benefit that a freestanding fireplace has is the view you get of the fireplace. Because these free standing fireplaces don't have to be set into a wall, they can be placed out in the open for everybody to get a great view. This makes free standing fireplaces a great conversation starter and a topic of discussion at every social gathering. If the freestanding fireplace has glass sides and is placed in the middle of the room, then everybody in a room will be able to see your free standing fireplace no matter where they are in your room. If you are looking for a fireplace that has the best look, one of these models will be one of your best bets.
Because these free standing fireplaces are more unique looking and in high demand by wealthier people, they tend to cost more. You can find some of these for around $2,000, but most of the time you will spend at least $5,000 buying a high performance and sleek looking free standing fireplace.
What it all boils down to is that if you want style that is unmatched by just about any model besides maybe custom fireplaces then you should get one of these. If you just simply want something that will keep you and your family warm in the winter, then you probably don't need free standing fireplaces.