Fireplace Surrounds Shopping Guide – Fireplace Surround Information
Fireplace surrounds are the area that directly surround your fireplace along the top and all other sides. This area also includes your fireplace mantels.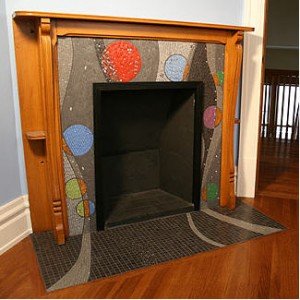 Your fireplace surround can either bring your fireplaces or stoves to life, or can really make them look dull – this is all up to you and how much of a decorative fireplace that you are going for. Some people might want eye catching decorative fireplaces while others are more concerned with the function and performance of their fireplaces. This is all up to you, your style and your personal preference.
Fireplace Surrounds Design Guide
Fireplace Surround Designs
Modern fireplace surrounds can come in all sorts of designs and styles. Choose from materials such as plaster, tile, brick, stones, concrete, granite, marble, brick, wood and many others to compliment the decor of your fireplaces as well as your room and house decor.
Using tiles around the fireplace surrounds can really draw your eyes into the fireplace. Use of large tiles or smaller tiles can make some great designs. This style gives you a great option to open up your ideas and really get creative with your fireplace surround designs.
Incorporating artwork, mirrors, candles and other fireplaces accessories are a great way of making beautiful fireplace surrounds. Match your style with your favorite artwork from your favorite artist and put some pictures of your family and friends to really make your fireplace surrounds look warming and at home.