Faux Fireplaces Shopping Guide – Faux Fireplace Information
The term faux fireplaces is derived from a french word which means fake, which is exactly what a faux fireplace is. But don't let the word fake fool you, these faux fireplaces can be very high quality, good looking and closely resemble stone, rock or brick fireplaces while costing you much less.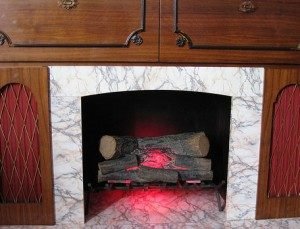 Types Of Faux Fireplaces – Faux Fireplace Options
You can purchase faux fireplaces in basically every fuel source possible including faux gas, wood burning and electric fireplaces. On top of these different faux fireplace fuel sources, you can find a faux fireplace in every different style possible such as the antique look, victorian, marble, brick, stone and many different other options to fit your home decor. Then for those who wish to stylize their faux fireplace can also invest in optional add on products such as a faux fireplace mantel or faux fireplace surrounds which makes these products look really good in your home or backyard.
Advantages & Disadvantages Of Faux Fireplaces
These models are popular mostly because they are relatively inexpensive. You will be able to find some models that sell for a couple hundred dollars, but the higher quality faux fireplaces will sell for $800 and up. Another advantage of these is that they are usually really good looking, and many times you can't tell that they are faux at all!
The biggest disadvantage of these is their inability to generate heat. If you are buying one of these because you want to heat your home, another option such as wood burning stoves might be a better product for you.