Chimney Caps Shopping Guide – Chimney Cap Information
Your chimney caps do a lot for your fireplaces and homes by protecting your fireplaces and chimney and making your fireplaces more efficient. The point of having a fireplace in the first place is to heat your home, so why would your let all the hot air out by not using or improper use of a chimney cap?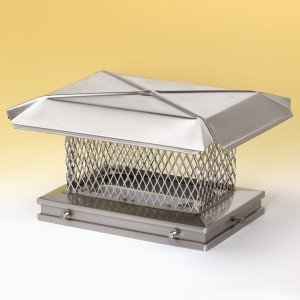 The whole point of chimney caps is to keep the rain, wind, snow, branches, dust, birds and anything else that might enter your chimney out of the chimney unit. These fireplaces accessories are very needed and can help you avoid some costly repairs in the future because moisture and other factors can really mess up your chimney. Not only do these chimney cap products serve a very strong purpose for your fireplaces, they can also help design your chimney as modern chimney caps feature very stylish designs.
Chimney Cap Styles
Chimney Caps Shopping
You can find chimney caps that come in a variety of materials. This includes stainless steel, cast iron fireplace chimney caps, aluminum, copper as well as some others.
When looking for chimney cap products, there are some certain qualities that you should look for. First of all, they should be very durable so they will last on top of your chimney for years to come. They should also match the style that you are going for. Most importantly, your chimney caps should have an integrated screen that keeps any hot sparks, or embers from leaving your chimneys which could cause a fire. Lastly, make sure that your chimney caps match the number of openings that you have on your chimney. While most chimneys only have one opening, some will have two or more and your chimney caps should match these designs.