Chimineas Shopping Guide – Chiminea Reviews
Chimineas are freestanding outdoor fireplaces that use wood for fuel with vertical chimneys or vents. You usually load a chiminea in the front, and they normally have a bulbed shape body.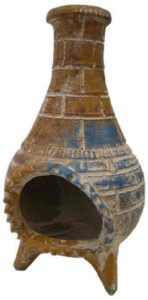 Many people get these chimineas mixed up with firepits but they are very different. Chimineas resemble the old pot belly stoves that used to be in homes long ago. They have the same pot belly bulbed shaped bodies with the vent on the top. And unlike firepits, a chiminea is enclosed or contained. In chimineas the fire sits inside a bowl that has sides all the way up around, with a window for loading the fire and to radiate heat onto users. Chimineas are much better outdoor fireplaces at keeping your backyard from getting "smoked out" because of their effective vents which force smoke upwards
Chimineas can vary greatly in price. Some might be portable and relatively cheap, but the more permanent units can be pretty pricey to buy and install. Because these permanent fixtures are more expensive makes them more unique and somewhat rare because they are too expensive for many people's price range.
Different Styles Of Chimineas
A chiminea can come in many different styles and designs to match whatever your backyard decor is. Of these outdoor chimineas styles are cast iron chiminea models, gas chimineas,chimineas clay,metal chimineas,copper chimineas,aluminum chimineas and more.