Central Boiler Review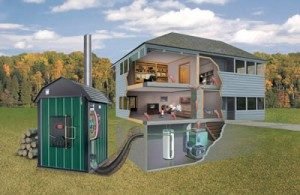 If you want to keep your home warm and you want it in a consistent basis, the Central Boiler is the right brand that you should choose. Central Boilers are popular for providing efficient heating devices for homes. The technology behind Central Boiler ensures that fuel is used efficiently and heat is driven into your home in an environment-friendly manner. Using this boiler, you can be sure to keep your family warm during winter without producing any negative impact to our environment.
Using CentralBoiler, you can cut down your heating bills into significant levels. There are certain models that allow owners to use it as heater and as a stove. With this, you can have a substitute stove and you don't need to spend separately for the heat it needs because the boiler system can already provide it.
Central Boiler products are sold at very reasonable prices and with this, you can be sure that you get the most in your money. If you are on a tight budget but you want a boiler that you can trust to work on every time you need it, this is the right brand that you should choose.
Some of the Central Boilers you can buy are sold with great discounts. Check out the following heating boiler products.
1. Classic CL 4030 – $5490 (sold at $500 discount)
Door 20″x20″
Firebox 40″x30″x26″
Heat Transfer Area 52 sq. ft.
Weight 1,350 lbs.
Water Capacity 140 Gallons
2. Classic CL 5036 – $6760 (sold at $600 discount)
Door 23″x23″
Firebox 50″x36″x30″
Heat Transfer Area 74 sq. ft.
Weight 1,670 lbs.
Water Capacity 196 Gallons
3. Classic CL 6048 – $8730 (sold at $700 discount)
Door 23″x31″
Firebox 60″x48″x36″
Heat Transfer Area 119 sq. ft.
Weight 2,450 lbs.
Water Capacity 393 Gallons
4. Classic CL 7260 – $14900 (sold at $800 discount)
Door 30″x40″
Firebox 72″x60″x40″
Heat Transfer Area 170 sq. ft.
Weight 3,910 lbs.
Water Capacity 764 Gallons
5. Pallet Burner – $23460
Door 54″x50″
Firebox 72″x66″x54″
Weight 4,880 lbs.
Water Capacity 556 Gallons
Central Boiler products are readily available even online. If you want to purchase Central Boilers, you can do this without any troubles from the online store. With just a few browses and clicks, you can have the boiler right in your home with minimal effort. If you want to enjoy what Central Boiler has to offer, order it now.