Cast Iron Fireplaces Shopping Guide – Cast Iron Fireplace Information
Cast iron fireplaces offer users a lot of durability as well as options and features. A cast iron fireplace can use different fuel sources, and can be either an indoor or an outdoor fireplace. These models often times can be used to cook on as well.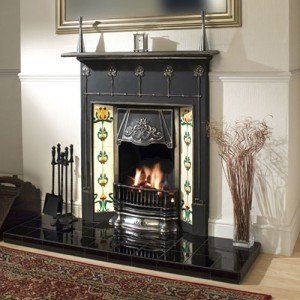 Cast Iron Fireplaces Advantages – Cast Iron Fireplace Benefits
The biggest advantage to cast iron fireplaces is durability. These models if maintained somewhat regularly can serve your home or patio areas for a long time. Many other fireplace styles such as the brick fireplace can chip, but cast iron fireplaces don't really have this problem. Because of this durability the cast iron fireplace is one of your best options when it comes to outdoor fireplaces.
Cast iron fireplaces can also be used with different fuel sources. You can purchase wood burning fireplaces made out of cast iron or gas fireplaces from cast iron depending on what your preference is. While electric cast iron fireplaces are available, this option isn't as popular as wood or gas.
There are some cast iron fireplaces that allow you to use your model as a stove to cook on, and a heater as well. These models have a space on the top of the cast iron fireplace so you can place cooking pots directly above the fire. These models don't usually produce very high heat for cooking, but you can slow cook food using your cast iron fireplaces.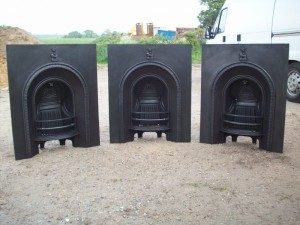 Cast Iron Inserts
Cast iron inserts are great for homeowners who really like using their fireplaces but don't enjoy all of the energy costs. These cast iron inserts are designed to fit right into an existing fireplace. All new cast iron inserts are EPA (environmental protection agency) certified so they are clean burning and energy efficient cast iron fireplaces.