Free Standing Stoves Shopping Guide – Free Standing Stove Information
We know that there are many free standing stoves at fireplace stores everywhere making it hard to decide which free standing stove to purchase. To give you some direction, Fireplaces and Wood Stoves NOW made you a list of the best free standing stoves to make your search a little easier.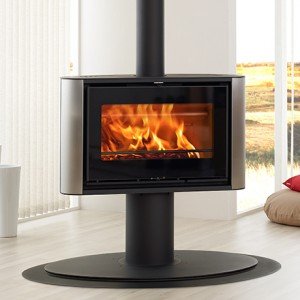 What Are Free Standing Stoves?
It's ok if you are confused to what is a free standing stove. Basically a free standing model is a fireplace that isn't set into any wall, and you can walk around all sides of the unit. These models usually make for some great views of the fire, especially if they feature glass doors. Free standing stoves are usually great at social gatherings and will always be a big focal point of the night.
Best Wood Free Standing Stoves
England's Stove Works 50-SFP12 Review Free Standing Wood Stoves
We think that these free standing stoves from England's Stove Works are some of the best around because they just scream of value! Normally purchased new for only $650, assembled on an attractive pedestal with cast legs too, the ability to heat up to 1000 square feet and a convenient ash drawer make these wood free standing stoves plain hard to match for the price.
Best Gas Free Standing Stoves
Regency Hampton H35 Gas Free Standing Stoves Review
These are great gas free standing stoves because of their unsurpassed performance. With natural gas, these gas free standing stoves can get up to 36,000 BTU of the most realistic looking fire that you will be able to find. The style of this model is also amazing as well, resembling some of the old classics. The view of the fire is spectacular with a large viewing area which is exactly what you would want out of a free standing stove.